Committee on
Digital Object Identifiers (DOIs)
for Geodetic Data Sets
Motivation
Data publications with digital object identifiers (DOI) are best practice for FAIR sharing data. Originally developed with the purpose of providing permanent access to (static) datasets described in scholarly literature, DOI today are more and more assigned to dynamic data. These DOIs are providing a citable and traceable reference of various types of sources (data, software, samples, equipment) and means of rewarding the originators and institutions. As a result of international groups, like the Coalition on Publishing Data in the Earth, Space and Environmental Sciences (COPDESS) and the Enabling FAIR Data project, data with assigned DOIs are fully citable in scholarly literature and many journals require the data underlying a publication to be available – even before accepting an article. Initial metrics for data citation allows data providers to demonstrate the value of the data collected by institutes and individual scientists.
This is especially relevant for the geodesy, because, geodesy researchers are often much more involved in operational aspects and data provision than researchers in other fields might be. Therefore, compared to other scientific disciplines, geodesy researchers appear to be producing less "countable scientific" output. Consequently, geodesy data and equipment require a structured and well-documented mechanism which will enable citability, scientific recognition and reward that can be provided by assigning DOI to data and data products.
To address these challenges and to identify opportunities for improved coordination and advocacy within the geodetic community, the International Association of Geodesy's (IAG) Global Geodetic Observing System (GGOS) has established a Working Group on "Digital Object Identifiers (DOIs) for Geodetic Data Sets" in 2019 which was transformed to a GGOS Committee in 2023. This Committee is designated to establish best practices and advocate for the consistent implementation of DOIs across all IAG Services and in the greater geodetic community.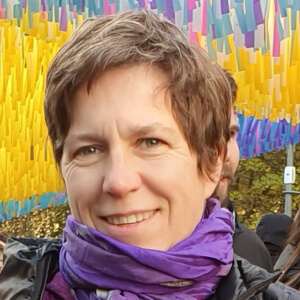 Kirsten Elger
Chair of Committee on DOIs for Geodetic Data Sets
GGOS
Documents / Presentations / Videos
Objectives
The main objectives and activities of this committee are:
to identify what the community needs from consistent usage of DOIs for data in terms of being able to discover data, permanently cite data, and acknowledge the data providers
to develop recommendations for DOI minting strategies for different geodetic data types and granularity across IAG Services (static, dynamic, observational data, data products, combination products, networks)
to develop recommendations for a consistent method for data citation across all IAG Services, to support data providers, and to provide quantitative support detailing the use of geodetic datasets and other resources.
to develop recommendations for connecting metadata standards for data discovery (e.g. DataCite, ISO19115) with community metadata standards (GeodesyML, Station Logs)
Members
Chair: Kirsten Elger (GFZ, Germany)
Detlef Angermann (TU Munich, Germany)
Yehuda Bock (UCDC, US)
Sylvain Bonvalot (GET, France)
Roelf Botha (SARAO, South Africa)
Markus Bradke (GFZ, Germany)
Elizabeth Bradshaw (NOC, UK)
Carine Bruyninx (ROB, Belgium)
Daniela Carrion (Politecnico Milan, Italy)
Glenda Coetzer (SARAO, South Africa)
Pierre Fridez (CODE/AIUB, Switzerland)
Elmas Sinem Ince (GFZ, Germany)
Philippe Lamothe (Geodetic Survey Canada)
Vicente Navarro (ESA)
Mirko Reguzzoni (Politecnico Milan, Italy)
Jim Riley (UNAVCO, US)
Dan Roman (NGS, US)
Laurent Soudarin (CLS, France)
Daniela Thaller (BKG, Germany)
Yusuke Yokota (GGOS Japan)
Christian Schwatke (TU Munich, Germany)
Associated Members
Godfred Amponsah (NGS, US)
Sandra Blevins (CDDIS/NASA, US)
Allison Craddock (JPL/NASA, US)
Michael Craymer (Canadian Geodetic Networks, Canada)
Patrick Michael (CDDIS/NASA, US)
Basara Miyahara (GGOS, Japan)
Mike Pearlman (Harvard Smithsonian – Center for Astrophysics, US)
Nacho Romero (ESA)
Martin Sehnal (GGOS, BEV, Austria)
Lori Tyahla (CDDIS/NASA, US)
Francine Coloma (NOAA, US)
Theresa Damiani (NOAA, US)
Christoph Förste (GFZ, Germany)
John Galetzka (NOAA, US)
Ryan Hippenstiel (NOAA, US)
Anna Miglio (ROB, Belgium)
Ira Sellars (NOAA, US)