GGOS Organization Structure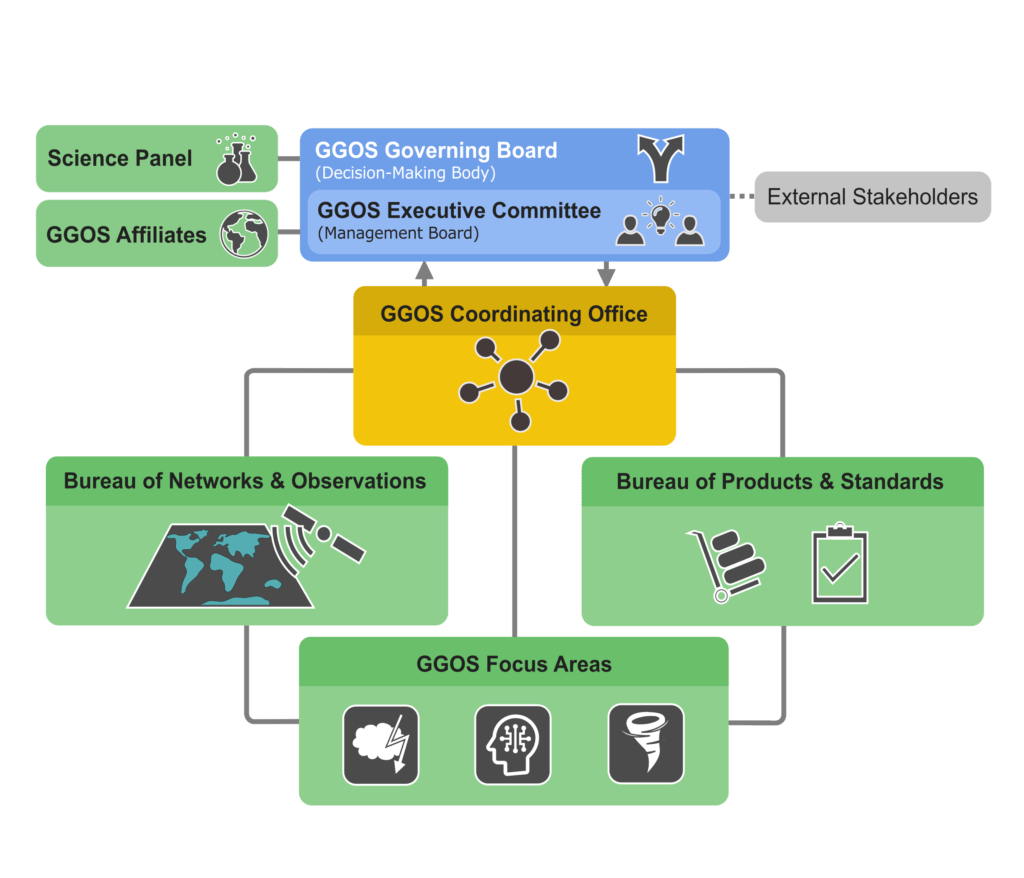 The GGOS organization consist of following structure elements:
GGOS Coordinating Office – coordinates the work within GGOS and supports the Chair, the Executive Committee and the Governing Board; and coordinates GGOS external relations.
GGOS Components
GGOS Science Panel – advises and provides recommendations to the Governing Board relating to the scientific content of the GGOS 2020 book and its updates; and represents the geodetic and geoscience community at GGOS meetings.
GGOS Bureau of Products and Standards – tracks, reviews, examines, evaluates all actual standards, constants, resolutions and products adopted by IAG or its components and recommends their further use or proposes the necessary updates.
GGOS Bureau of Networks and Observations – develops a strategy to design, integrate and maintain the fundamental geodetic infrastructure including communication and data flow; monitors the status of the networks and advocates for implementation of core and other co-located network sites and improved network performance.
GGOS Affiliates – are national or regional organizations that coordinate geodetic activities in that country or region. GGOS Affiliates allow increased participation in GGOS, especially by organizations in under-represented areas of Africa, Asia-Pacific, and South and Central America.
GGOS Committees, Working Groups and Focus Areas (formerly known as Themes) – address overarching issues common to several or all IAG components, and are a mechanism to bring the various activities of the Services, Commissions and Inter-Commission Committees together, or to link GGOS to external organizations. Focus Areas are cross-disciplinary and address specific focus areas where GGOS contributors work together to address broader and critical issues.