GGOS Days 2024 & GGOS Focus Areas Topical Meeting
Date: October 7 to 11, 2024 (Save the date)
Location: Potsdam, Germany
The GGOS Focus Areas aim to address broader issues that have not been considered by any component of the International Association of Geodesy (IAG) or those that require the agreement of different IAG components to be solved. These Areas are cross-disciplinary and seek to identify gaps and necessary future geodetic products while also serving as incubators of new research fields.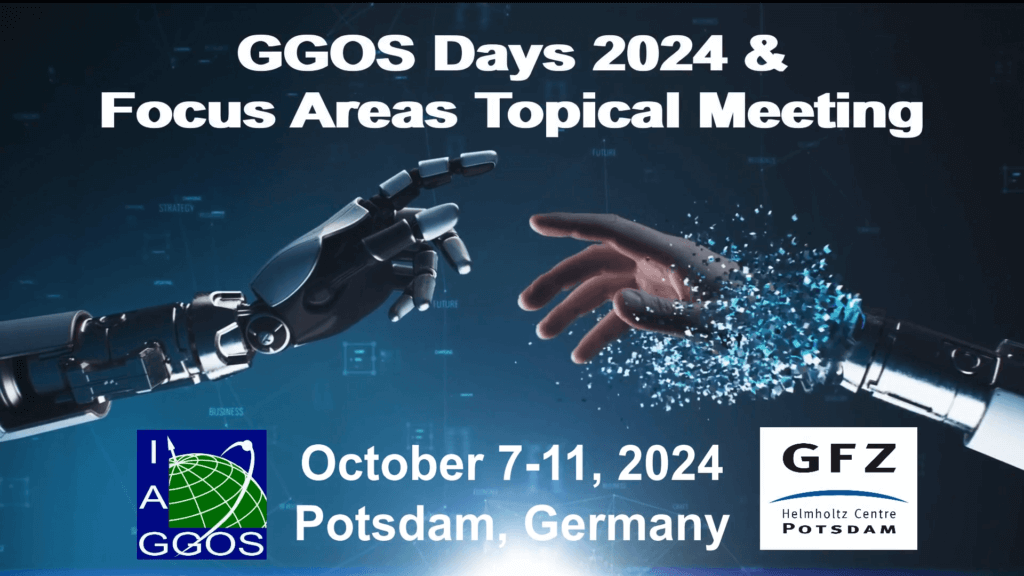 Currently, there are three Focus Areas in operation:
Additionally, there are two new potential Focus Areas under discussion: combining tropospheric parameters and integrating GNSS and InSAR data.
Considering the widespread interest in these topics, and with gratitude to the GFZ (German Research Centre for Geosciences) for the invitation, we are arranging a GGOS Focus Areas Topical Meeting to unite all colleagues invested and engaged in these fields to assess advancements, consider fresh developments, and establish innovative research strategies. Jointly with this Topical Meeting, we will host the GGOS Days 2024 to convene the other GGOS components for reporting advancements and planning future endeavours. This short announcement is to invite you to save the date: October 7 to 11, 2024. We will be providing more details on the format and participation in these meetings in the near future on the event website:
Event website: ggos.org/event/ggos-days-fa-meeting-2024/
https://ggos.org/wp-content/uploads/2023/12/potsdam-1859455_1920_pixabay_Kai_Vogel-GGOS-Logo.jpg
1282
1920
admin
https://ggos.org/wp-content/uploads/2020/08/GGOS_Logo_Website_100dpi-1024x273.png
admin
2023-11-12 11:00:41
2023-11-13 06:37:50
GGOS Days 2024 & GGOS Focus Areas Topical Meeting